Tip
Shares some advice on avoiding printer jams, "It has to do not only with the finish on one side of the paper, but the 'curl' of the paper. Hold an unpackaged ream by one end in your hand, and you'll see that it curls down more easily with one side up than it does with the other side up. The paper should be loaded into the tray with the more easily curling side facing down." And adds, "This becomes extremity important in the large high-speed printers and copiers that the whole office uses. It's not as big of a deal in the slower desktop printers, although putting the paper in the right way helps reduce jams somewhat in them too. And it helps with the paper curl."
Some helpful advice, "Don't take canned air to a running projector. The bulbs get so hot that it can cause a dust fire when the dust becomes un-settled… Just caused a flash fire and horrible smell in front of a classroom of 32 fifth graders. They enjoyed it, the teacher and I did not… [and] the projector doesn't work anymore."
Free Tool
Winsplit Revolution allows you to organize your open windows by tiling, resizing and positioning them in whatever way you like. This small utility sits in your system tray and is activated with a single click.
LinSSID allows you to scan for wifi networks in Linux. Exposes the network name (SSID), MAC address, channel, security type (WPA2, WEP, WPA2/SK) and signal strength in an organized fashion.
portchecker.io is a simple utility that can check the port status by querying any specified hostname or IP address, in order to help you locate and diagnose connection problems.
ExplorerPatcher enables you to customize elements of the Windows 11 environment, including the taskbar, start menu, context menu, command bar, Alt-Tab window switcher, tray menus, search and more.
X-Mouse Button Control enables you to create application- and window-specific profiles that produce different mouse behavior for different applications or windows. Each profile can contain up to 10 configuration layers, with hot-key or mouse-button switching among layers.
NsLookup.io is an efficient online tool for searching through DNS record information by domain name. Adds, "Nslookup.io is endlessly useful to me. Displays all the DNS records I need without having to run a ton of commands. Also lets me select a different DNS server."
BRLTTY provides access to the text-mode Linux/Unix console via a refreshable braille display, driving the display with complete screen review functionality as well as some speech capability. Explains, it's basically an "open-source daemon for refreshable Braille displays."
Porteus is a small, complete linux operating system optimized to run directly from any bootable storage media, which can be a nice way to offer a "locked-down" computer for direct customer use. Explains, "It basically installs itself as read-only using a config on every boot, and launches a kiosk-mode Firefox and Chrome." Appreciates that "since it basically runs on a potato, you save on costs, too. It takes a bit of fiddling around for the setup, but once you're done, you barely have to touch it (except for updates). Really fast and stable, definitely recommend!'
7+ Taskbar Tweaker is a tool for configuring various aspects of the Windows taskbar, including many that can't be adjusted through the taskbar properties or the registry. For Windows 7, 8 and 10.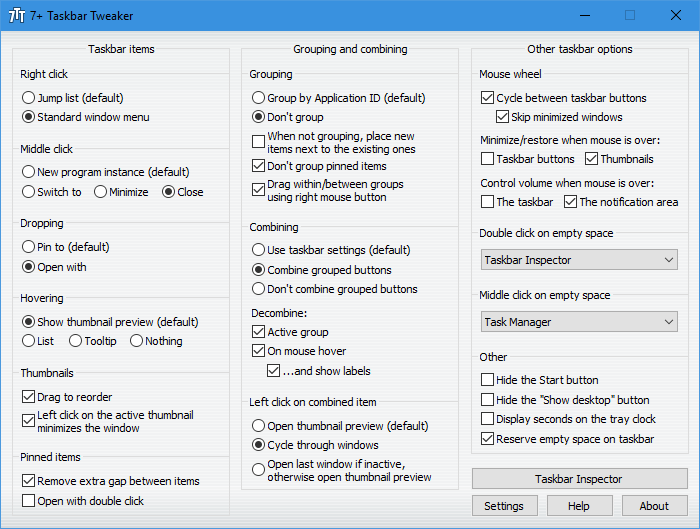 IPFIXcol2 is an extensible, flexible, high-performance NetFlow v5/v9 and IPFIX flow data collector that lets you use whatever combination of input, intermediate and output plugins you prefer. It "allows me to dump collected packets straight into a queue, and… ingest wonky custom fields that some of my vendors insist on using and not documenting."
Training Resource
Fast-Docker is nice repository on containerization and the Docker environment. Covers Docker File, Image, Container, Commands, Volumes, Networks, Swarm, Stack, Service, Dockerfile, Image, Container, Commands, Volumes, Docker-Compose, Networks, Swarm and Stack—with details and example usage scenario how tos.
Chris Greer's YouTube Channel attempts to demystify the area of network troubleshooting with Wireshark and other packet shredding tools. You'll learn specifics on how to comb through packet traces to solve problems and identify cybersecurity vulnerabilities.
Fast-Kubernetes is a concise training resource on Kubernetes. This repository covers object and component details (Kubectl, Pod, Deployment, Service, ConfigMap, Volume, PV, PVC, Daemonset, Secret, Affinity, Taint-Toleration, Helm, etc.) fastly, and possible example usage scenarios (Hands-on LAB).
SharkFest Wireshark Developer and User Conference is the YouTube channel for the annual SharkFest educational conference. You'll find tons of great content on Wireshark, including how tos, best practices and details on the latest release. "Sharkfest dev/user conference channel is really good."
Documentation Resource
ntwrk-clean-and-flat is a set of 2D symbols for computer network diagrams that are converted from affinity into a clean, flat, easily customizable version in native Visio stencil format. Explains it is "not a complete and comprehensive conversion, but it's better than nothing."
Cheatsheet
OpenSSL Cheat Sheet is Practical Networking's tidy, 2-page summary of essential technical details to remember when working with keys, certs and converting between formats.
Blog
Tseknet is a blog loaded with information on PowerShell, Python, automation, CI/CD, infrastructure as code, imaging/provisioning, config management and Windows SRE. It's open-source-passionate author, Dan Tsekhanskiy, works on imaging tools as a member of Google's WinOps SRE team.
List
2023 End-of-Support Milestone in Microsoft 365 is a comprehensive list of deprecations and end-of-support announcements along with information on how to prepare for these changes. Suggests, "To easily keep track of the Office 365 end-of-support timeline, you can download a timeline-based cool infographic… in a printer-friendly format."