Vodafone doubles number of sites for UK NB-IoT network
Vodafone has doubled the number of sites in UK NB-IoT network, coverage has reached 98% of its network to meet the growing demand for IoT services from customers across the country. The network expansion supports ongoing Vodafone investments in IoT platforms and services to support the growing number of businesses implementing IoT technology to increase operational efficiency and grow revenues.
Losant supports SNMP in edge compute platform improvements
A platform release from Losant focuses on edge compute platform features, with added support for a new protocol, the ability to run edge workflows shipped with hardware, and additional improvements to the development experience. Simple Network Management Protocol (SNMP) allows for reading and writing characteristics of devices connected on a local network. SNMP is a popular method for interacting with a variety of hardware: IoT sensors, printers, smart appliances, networking equipment and servers. Read more at Losant Blog: PLATFORM UPDATE – SNMP NODES, ON-DISK WORKFLOWS, MORE DEVELOPER IMPROVEMENTS
US Air Force picks Vitro Technology to secure nuclear data
US Air Force has awarded a contract to Vitro Technology to secure IoT data from remote, nuclear launch sites. Vitro Technology has won a direct to phase II SBIR contract with the US Air Force defending the critical infrastructure of the USA's nuclear arsenal.
Soracom blends connectivity for IoT product development
Soracom has launched Soracom Arc, a service that allows anyone developing IoT products to leverage the IoT platform using any internet connection, including cellular, wifi, Ethernet and satellite, lets users mix multiple connectivity technologies while controlling their entire network through a single, unified management platform, extending the availability of IoT networking capabilities. Read more at Soracom Blog: Connect to Soracom Over WiFi and Ethernet with Soracom Arc
Gurtam joins IMC to expand beyond GPS tracking
Gurtam has joined the IoT M2M Council (IMC) as a sustaining member to find broader markets for Wialon IoT platform that connects remote devices installed on vehicles and stationary objects.
Deutsche Telekom has certified Telit's FN980 sub-6 5G module for use on the operator's 5G networks across Europe.
Designed for global use, Telit FN980 is a 5G sub-6 M.2 module, suitable for high-performance and bandwidth-intensive enterprise and industrial applications including fixed wireless access, enterprise routers and gateways, indoor and outdoor CPE, and professional broadcasting and surveillance.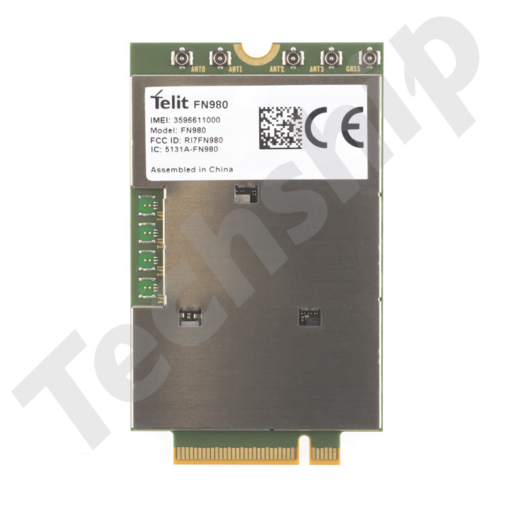 TraceSafe Adds Contactless Access Control to IoT Platform
Tracesafe Inc, an IoT solutions provider for large-scale industrial and enterprise operations, announced today the release of a new contactless access control system that integrates with its entire suite of products and services.
TraceSafe devices now have integrated chipsets that can be programmed to open doors and assign access wirelessly, and are set to be used in future major cruise line deployments. Scaling and managing the solution may become more easier through its cloud-based architecture, the company said. The new products with access control capability are said to be compatible with the ASSA ABLOY's Electronic Access Control. Read more at Tracesafe Press Release: TraceSafe Adds Contactless Access Control to Its IoT Platform
Zoom to Acquire Five9 for $14.7 Billion
Teleconference service provider Zoom Video Communications has agreed to buy cloud software provider Five9 in an all-stock deal worth about $14.7 billion. The acquisition is a bid to target business clients looking to boost customer engagement, it said on Sunday. The company is now shifting focus to its cloud-calling product Zoom Phone and conference-hosting product Zoom Rooms as bigger players Facebook and Alphabet's Google amp up their video products.
Dicker Data Adds IoT Device-to-Cloud Vendor Inseego
US based IoT device-to-cloud solutions vendor Inseego has appointed Dicker Data as its first Australian distributor partner. The deal will cover the later's full range of customer premises equipment, mobile hotspots and modems, routers and gateways. The announcement comes as the vendor plans expansion beyond US, complementing its Telstra products and aims to make 5G more accessible to its reseller partners.
New Open-Source LwM2M Client for IoT Device Vendors
IoT Device and Data Management company, Friendly Technologies has announced the release of its Professional Embedded LwM2M Client and associated SDK as free open-source software for IoT vendors. The LwM2M Client is targeted mainly for IoT device manufacturers to comply with industry standards for efficient mass IoT device deployments. The LwM2M client is mainly for IoT device manufacturers to comply with industry standards for efficient mass IoT device deployments, wherein many telcos globally have employed LwM2M as the preferred IoT device management standard. Read more at Friendly Tech Announces Open-Source LwM2M Client for IoT Device Vendors
Japan Sets New Internet Speed World Record, Transfers Data at 319Tbps
Japan's National Institute of Information and Communications (NICT) has reportedly set a new world record for data transfer over the fastest internet at a speed of 319 terabytes per second. This means one can download 57,000 full-length movies in 1 second, the report said. This is almost 24 million times faster than the average internet speed in India.
319 Tb/s long-haul transmission of wideband (>120 nm) S, C and L-bands signal using 552 PDM-16QAM, wavelength-division multiplexed channels in a 4-core optical fiber
Long-distance transmission over 3,001 km enabled by adoption of both erbium and thulium doped-fiber amplifiers and distributed Raman amplification
Demonstration shows potential of SDM fibers with standard-cladding diameter and compatibility with existing cabling technologies for near-term adoption of high-throughput SDM fiber systems
SoM for IoT deployment
The new S-2CONNECT Creo systemon- module (SoM) reduces R&D risk and fast-tracks IoT application development. The robust, scalable, and cost-effective embedded platform is an end-to-end framework that seamlessly delivers hardware, connectivity, infrastructure, and user experience solutions. It features a powerful processor and cellular connectivity for global coverage, delivering the perfect communication bridge for true real-time sensing and positioning data. By streamlining the secure connection of products and systems, users achieve tangible results such as improved efficiencies, removal of unnecessary maintenance, reduced carbon footprint, and enabling of dataled business decisions. Read more at TTElectronics news: S-2CONNECT® Creo Development Kit Leverages the Latest LTE Cat M1 and NB-IoT Technology to Accelerate R&D for Connected Applications
MEMS accelerometer
The AIS2IH three-axis linear accelerometer brings enhanced resolution, temperature stability, and mechanical robustness to automotive applications including anti-theft, telematics, infotainment, tilt/inclination measurement, and vehicle navigation. It also paves the way to new performancedemanding applications in automotive, medical, and industrial segments. The AIS2IH ensures marketleading reliability while delivering highperformance motion sensing over a wide -40ºC to +115ºC operating range. It features ultra-low power consumption and has user-selectable full scales of ±2g, ±4g, ±8g, and ±16g, capable of measuring accelerations with output data rates configurable in the range of 1.6Hz to 1.6kHz, with embedded configurable digital low-pass and high-pass filters.
Temperature and humidity sensor
A new sensor called Hadar Cold has been designed that can operate in the temperature range of -20°C to +60°C by simply harvesting indoor lighting. The newly launched wireless, battery-free and maintenance-free temperature and humidity sensor includes Epishine's solar cell, enabling energy harvesting in very low light levels. Benefits are sustainability and environmental friendliness. Now there is no worry about the operational costs involved in changing batteries. Applications include smart buildings, smart homes, and retail industry.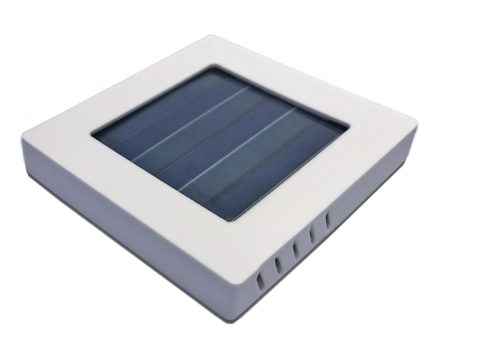 TO THE NEW becomes a partner of Google Cloud Platform
TO THE NEW announced become a recognised Google Cloud Platform (GCP) Partner. GCP provides infrastructure as a service, platform as a service, with security tools for data privacy, while its serverless AI & ML platform helps to automate processes and streamline operations. GCP allows customer data and apps to run on any cloud or environment – open-source, hybrid, or multi-cloud, the company said.
Xiaomi to Expand IoT Products, Strengthen Manufacturing in India
Xiaomi is focusing to expand IoT products with its premium devices, strengthening retail network and local manufacturing in India. Xiaomi India head Manu Jain had shared plans to expand product line-up to smart TVs, laptops, smart wearables and home automation products among other categories.
Antenova Lutosa antenna suits 5G bands worldwide
Antenova introduced Lutosa, a compact antenna for 5G bands worldwide, including LTE band 74 1420-1520MHz and 617-698MHz. The Lutosa is a flexible antenna measuring 95 by 15 by 0.15mm suitable for smaller designs, as it can be curved or folded and inserted into the device. The antenna is linear polarised and showed high efficiency in tests. Antenova designed Lutosa for easier integration into a device. The antenna does not require a ground plane or a matching network and is fixed in place using its own self-adhesive strip. Read more at Antenova news: Antenova introduces Lutosa, high performing antenna for small devices on LTE and 5G networks
Senet and Adtran partnership to deliver carrier-grade LoRaWan services for IoT applications
Senet provides cloud-based software and services that enable global connectivity and on-demand network build-outs for the IoT; Adtran provides business and residential connectivity.
Adtran 7310-08 IoT gateway has been certified to operate with Senet's cloud-based network management platform, providing businesses, VARs, and system integrators a path to deploying and managing cost-effective and secure LoRaWan connectivity in and around commercial buildings at scale. Read more at Senet News: Senet and ADTRAN Partner to Deliver Carrier-Grade LoRaWAN® Connectivity to the Enterprise
Libelium controls salinity for mussel and salmon farms
Two smart water projects in New Zealand are using technology from Libelium to control salinity for mussel and salmon farming. Adroit is helping producers achieve sustainable aquaculture standards. Two of Adroit's most recent smart water projects are helping salmon and mussel producers meet standards of sustainability, quality, and efficiency. Read more at Smart Water solutions to get the best quality mussels and salmon in New Zealand
Renesas created design platform to ease prototyping of IoT systems
Renesas Quick-Connect IoT Platform consists of standardized boards and interfaces, enabling designers to connect quickly and easily a wide range of sensors to MCU development boards. It also has core software building blocks that are portable between boards, reducing coding requirements. Read more at Renesas blogs: Renesas Quick-Connect IoT Platform Provides Building Blocks for Rapid Prototyping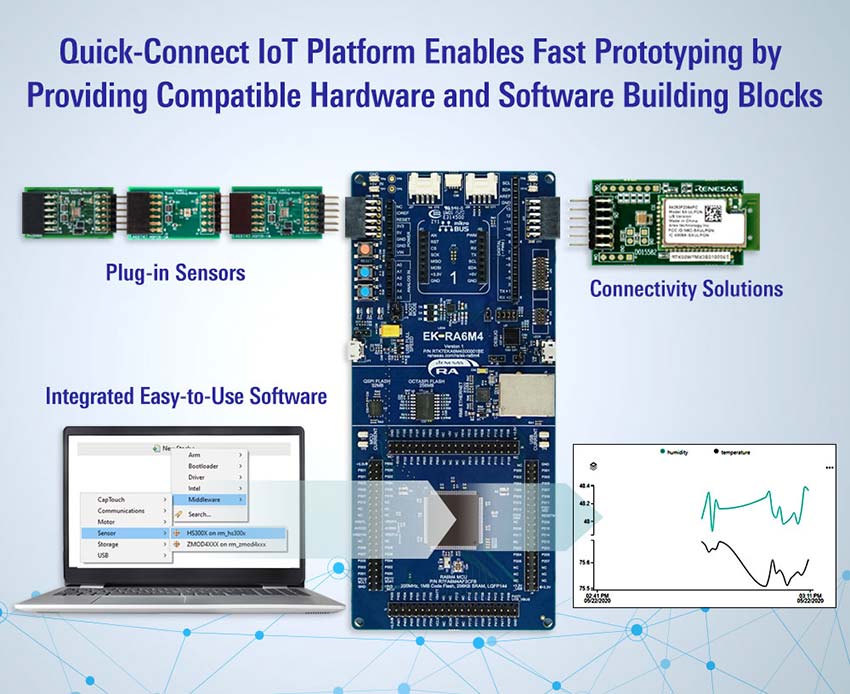 Blues Wireless has raised $22m in series A funding
The money will be used to expand its global marketing, sales, operations, and support further investment in R&D for hardware and associated services to integrate data into cloud applications.
Blues Wireless announced the general availability of Notecard in late 2020. Notecard is a cost-effective way to add LTE and 5G cellular connectivity to most products or services.
Giesecke+Devrient (G+D) has acquired Pod Group
The acquisition should build on Pod Group's position as a provider of the connectivity, infrastructure, and managed services required by enterprises to own and control their IoT networks while complementing G+D's offering of trusted connectivity enablement for the IoT with tailored connectivity management services.
Pod Group's approach to IoT connectivity is designed to simplify deployments by providing enterprises with access to an entire ecosystem of integrated IoT connectivity technologies. These include eUICC/eSIM, private LTE, and SIM app technology such as zero-touch provisioning, all supported by centralized management and billing platform, Pod IoT Suite. Read more at Pod Group press release: Pod Group Acquired by Giesecke+Devrient
Telit working together Thirdware to accelerate IoT initiatives
Aiming to let companies focus on rapidly bringing new digital offerings to the market, drive increased engagement and revenue, and reduce time to market and associated costs.
Mastercard and Verizon Business partnership to integrate 5G to payments industry
Mastercard announced partnership with Verizon Business aiming to unlock the IoT sensor connectivity with near real-time edge computing and provide small and medium-sized businesses with "hyper-automated and immersive" commerce experiences including:
Enable smartphones or connected devices to seamlessly accept payment
Unlock touchless retail shopping experiences
Create new ways to consume physical and digital goods
Create new ways to consume physical and digital goods
Enhance the bill pay experience for Verizon customers
The companies will test and embed 5G at Mastercard's New York City Tech Hub to explore mobile edge computing technology and use cases. Read more at Verizon News Center: Verizon Business and Mastercard Partner to Bring 5G to the Global Payments Industry
NetConnect Global announced to hire 5,000 professionals by end of 2021 to expand in India
NetConnect Global (NCG) aims to enhance focus on new-age digital technologies in IoT, cloud app development and artificial intelligence/machine learning by strengthening workforce, identify professionals who "understand technology, have the right attitude, aptitude, skillsets and are ready to experiment with newer technologies while delivering business outcomes for customers."
iWire will be the exclusive operator for Sigfox in the Indian market
The move coincides with its Series A funding of $34 million led by Noor Capital and supported by Bpifrance to accelerate its development and enter new markets. Read more at Sigfox News: SIGFOX AND IWIRE TO EXPAND 0G NETWORK COVERAGE IN ASIA, MIDDLE EAST AND AFRICA
Orolia Unveils 'EdgeSync', new network timing platform for real-time edge applications
Orolia introduced EdgeSync, a new network timing platform that provides Network Time Protocol (NTP) and Precision Time Protocol (PTP) Grandmaster and Boundary Clock functionality for real-time edge applications. Parameters like High performance, scalability, ease of use, and manageability make EdgeSync suitable for a wide range of applications like data centers, finance, mobile edge computing, enterprise, smart grid, industrial internet of things (IoT), process control, or telecommunications. Read more at Orolia News: Orolia Unveils its Latest Network Timing Edge Platform, EdgeSync™
Microsoft and NEC expand partnership to accelerate cloud adoption and support digital transformation initiatives
Microsoft and NEC announced the expansion of the partnership to use Microsoft Azure, Microsoft 365, NEC's 5G expertise, artificial intelligence (AI) and internet of things (IoT) solutions to help enterprise and public sector customers accelerate cloud adoption and digital transformation initiatives. NEC will adopt Microsoft Azure as the preferred cloud platform, this will deliver 'enhanced capabilities' to drive sustained digitalization, help customers to transform business models, and build digital workplaces. Read more at Microsoft Stories: Microsoft and NEC expand strategic partnership to boost business resiliency and growth
CollaboGate and Tessera Technology demonstrate experiment to build decentralised IoT platform using decentralised identifiers
Both companies have formed a business alliance to work on a proof-of-concept project that intends to build a decentralised IoT platform that smoothly connects people, IoT devices, and a smart concierge that enables the contactless economy by using the Unid decentralised ID platform. In association with Renesas, they aim to develop a smart concierge prototype for building a contactless economy worth over $11tn by 2025.
SenRa and Actility are working together to accelerate LoRaWan adoption globally.
SenRa's expertise in connectivity services and data analytics coupled with Actility's product portfolio allows for rapid deployments of LoRaWan across many IoT segments. Read more at SenRa and Actility intensify partnership to deploy LoRaWAN® end-to-end solutions
Nokia introduced iSIM Secure Connect to helps CSPs deliver 5G mobile and IoT services
Nokia offered iSIM Secure Connect to help communication service providers (CSPs) and enterprises deliver 5G mobile and IoT services, and more efficiently and securely manage M2M and consumer device subscriptions for eSIM- and iSIM-enabled devices. Nokia's iSIM Secure Connect commercially available this quarter, flexibly managing device subscriptions linked to trusted digital ID for public and private e-services. Read more at Nokia Press Release: Nokia launches iSIM Secure Connect software to enable new 5G mobile and IoT services, revenue streams
Keyfactor has completed merger with PrimeKey under the Keyfactor brand
Keyfactor provides certificate lifecycle automation and crypto-agility; PrimeKey's EJBCA software provides flexible private PKI (public key infrastructure) and certificate authority (CA) supporting DevOps, IoT, manufacturing, and enterprise use cases; both created the industry's first end-to-end machine identity management platform with flexible and scalable certificate issuance and automated deployment of machine identities across the complex enterprise and emerging IoT and OT use cases. Read more at Keyfactor Press Release: Keyfactor and PrimeKey Finalize Merger Under the Keyfactor Brand
Vodafone selected Dell Technologies on commercial Open RAN rollout
Dell Technologies and Vodafone will build Europe's first commercial Open Radio Access Network (RAN) network, bringing more broadband access to European businesses and communities. Vodafone has selected Dell to provide edge compute infrastructure to help drive connectivity across Europe. Read more at Dell Technologies Press Release: Vodafone Selects Dell Technologies to Help Build First Commercial Open RAN Network in Europe
Tartabit announced LwM2M 1.1 server support as part of the IoT bridge LPWAN to the Microsoft Azure integration service
Additionally, Tartabit has joined the Open Mobile Alliance (OMA) to help improve the specification and further promote the adoption of LwM2M as a device management technology for low-powered wide-area (LPWA) devices.
Taoglas has strengthened IoT managed services with the acquisition of Smartsensor Technologies
The transaction should facilitate the expansion of Taoglas' connected smart services business unit, furthering its position as an IoT managed service provider for enterprises. Smartsensor Technologies is an established end-to-end IoT provider, combining hardware, software, and data analytics capabilities to provide real-time, data-driven insights and smart asset management for the public and private sectors. Read more at Taoglas News > Taoglas Strengthens its IoT Managed Services Offering with Acquisition of Smartsensor Technologies
Intel Capital invests in floLIVE to enable global 5G network rollout
floLIVE has received an extra $15.5m in a Series B round led by Intel Capital to enable the rollout of its global 5G network, brings its series B financing round to $37m, led by Intel Capital, Qualcomm Ventures, Dell Technologies Capital, 83North, Saban Ventures, and Arie Capital. floLIVE provides secure, cloud-native global connectivity management for the IoT. Read more at floLIVE Secures $15.5 Million Investment Led by Intel Capital and Launches New Global 5G Service