Are you in need of a reliable solution to recover accidentally deleted or corrupted image files? Look no further. Ashampoo Photo Recovery is here to help you retrieve your precious photos and images with ease.
Key Features
Recover Deleted or Corrupted Image Files: Ashampoo Photo Recovery specializes in recovering image files that you thought were lost forever.
Scan All Available Drives: Whether you need to retrieve images from a specific folder or an entire disk drive, this tool has you covered.
Recover Photos from Formatted Disks: Even if you've formatted your disk, Ashampoo Photo Recovery can still salvage your valuable photos.
Retrieve Metadata: It doesn't just recover your images; it can also restore important metadata like EXIF or IPTC data.
Supports Common File Formats: Ashampoo Photo Recovery is compatible with popular image formats such as JPG, PNG, BMP, GIF, and even RAW.
Thumbnail View: Get a quick preview of your recovered photos as thumbnails for easy selection.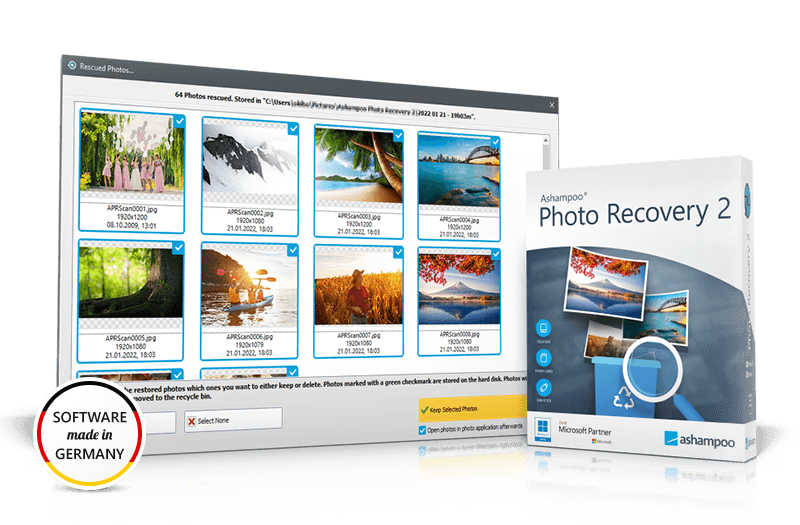 How to Get Ashampoo Photo Recovery for Free
Step 1: Create an Ashampoo Account: Before downloading Ashampoo Photo Recovery, you'll need a (free) Ashampoo account. If you don't have one yet, you can create it on Ashampoo's registration page.
Step 2: Confirm Your Email: After creating your account, you'll receive an email confirmation. Make sure to verify your email address by clicking the link provided.
Step 3: Download and Install: Once you have your Ashampoo account set up, download and install Ashampoo Photo Recovery on your computer.
Step 4: Activate Your Registration: After installation, run the program, and a giveaway registration window will open. Log in with your Ashampoo account. You may need to confirm your email address again by clicking a link sent by Ashampoo.
Step 5: Start Using Ashampoo Photo Recovery: Once you've completed the steps above, your Ashampoo Photo Recovery registration will be activated automatically. You can now start using this powerful tool to recover your precious images.
Don't let accidental deletions or corrupted files rob you of your cherished photos. With Ashampoo Photo Recovery, you can bring them back to life and enjoy your memories once again. Download it today and start restoring your image files with confidence.
Download Ashampoo Photo Recovery