With the annual fall Pixel event now officially behind us (and more than a few vaguely related announcements still trickling out around it), we've got oodles of gooey Googley goodness to gorge ourselves on and digest.
The Pixel 7 is all about the polish — and the price
After what felt like approximately 72 zillion years of teasing, Google's latest and greatest Pixels are finally in front of us — and there's much more to these phones than first meets the eye.
The internet's chorus of commentators is already calling the Pixel 7 a barely-updated version of last year's model, but that slapdash assessment is missing the forest for the trees.
The Pixel 7 phones pack some seriously impressive-looking camera improvements, including some crazy new up-close and zooming photography capabilities, a new cinema-like video capturing setup, and a combination hardware-and-software system for actually unblurring images after they've been taken.
The devices also bring back Face Unlock as a fast way to get into your phone — something I've very much missed since giving up my trusty ol' Pixel 4 a year ago.
All the new bells and whistles and physical design updates are nice, but what really makes these phones matter is the fact that they offer an upgraded version of the already-exceptional experience from last year's Pixels at exactly the same price — one that's almost insanely affordable compared to the current flagship competition.
The Pixel Watch has a healthy dose of Fitbit
Google's long-fabled Pixel Watch has also broken cover, and for the first time, we're starting to see exactly how Google's Fitbit acquisition is finally coming into play.
Google says the watch is closely integrated with Fitbit technology and relies on those smarts for all of its health tracking prowess.
While the Apple Watch measures your heart rate every five minutes, the Pixel Watch does it continuously — thanks to both Fitbit software intelligence and a special dedicated chip inside.
The watch also connects to your Fitbit account for ongoing analysis of all the health data it observes.
Perhaps most interesting to me is the fact that the Pixel Watch's interface harkens back to Google's original smartwatch philosophy from 2014 — the philosophy that less is more with a wearable gadget and that contextual info with minimal interaction is the way to go. That approach always made sense to me, and the return to that mindset makes me very intrigued to see what this thing is actually like to use.
This announcement (Google Pixel Watch: Help by Google, health by Fitbit) has the full lowdown on what the Pixel Watch is all about.
A sweet new home control setup is headed your way
In addition to all the Pixel stuff, Google's gearin' up to release a massive new update to its Google Home app on Android — and my goodness, does it look promising.
The new Home app really seems to be the all-encompassing, brand-agnostic smart-home hub we've been waiting for.
It brings together all the features of the old Nest app with new native-feeling controls for any compatible connected product.
That means you'll have a single centralized place for seeing cameras, adjusting lights and thermostats, and controlling any media that's playing on any device in your home.
And, my favorite twist, the new Home app includes some awesomely powerful automation possibilities that'll let you create simple "if this, then that"-style recipes involving virtually any connected home gadget you've got.
You can find the full story about the snazzy new system — which, naturally, is launching in a preview mode in "the coming weeks" — in this official announcement (Reimagining the future of Google Home).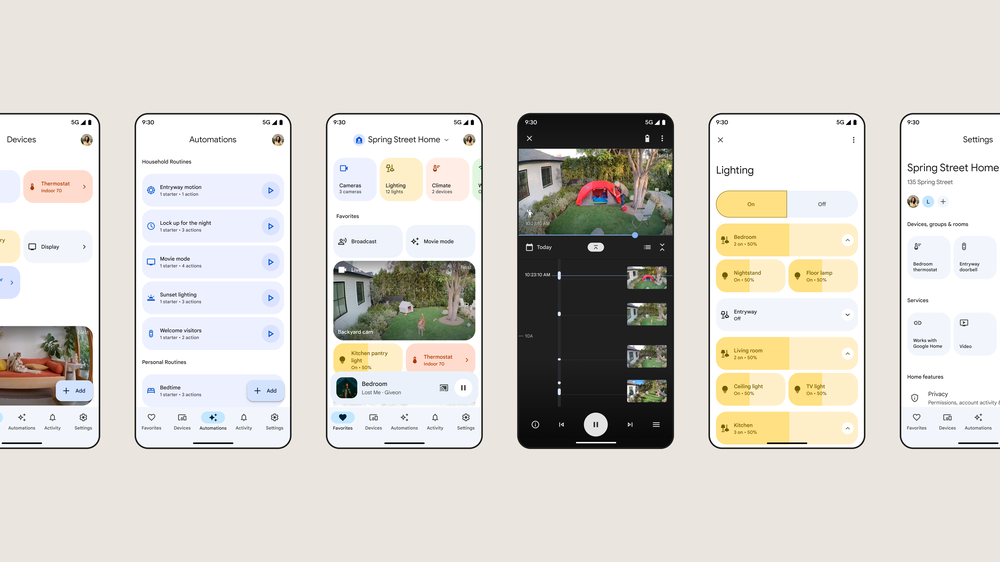 Try out a wild new way to use Android widgets
This first tip o' the week absolutely blew my mind when I saw it pop up in our Android Intelligence Platinum Community the other day.
Community Pro and forum pal JohnK stumbled onto the fact that on certain Android devices, you can actually call up specific widgets on demand from anywhere in your phone simply by saying something like: "Hey Google, show me the Keep widget."
It's a wonderful new way to interact with an app's info and functions on demand, from anywhere in Android — and without having to keep the widget front and center 24/7.
And even if your phone doesn't allow it to happen, you've got a few other worthwhile widget-summoning options to chew over.
Also coming from the Platinum Community this week, I inadvertently realized — or maybe just remembered — about a neat little option sprinkled all throughout Android.
When you're looking at an image in your web browser or in any other app where you can long-press an image to share it, press and hold your finger onto that image and look for the "Share" or "Share image" option.
Tap that option, then select "Google" from the list of choices that comes up. (If you're using Chrome, you'll probably have to first tap "More" before you see it.)
At some point in the not-too-distant past, Google quietly made that "Google" app sharing option act as a shortcut to its splendid Lens tool. And when you share an image into Lens like that, Lens will do supremely helpful stuff — like:
Identifying anything it finds in the image — product, plant, animal, you name it
Highlighting any text inside the image and allowing you to copy it, translate it, search for it, send it to your computer, or have it read out loud
Showing you links related to whatever it sees in the image so you can learn more about it
It should work on any reasonably recent phone, no matter what Android version it's running or what company made it.
And as usual, all you've gotta do is remember to use it.
Let your phone's keyboard show its true colors
Last but not least this week, here's a quick 'n' simple tip for any phone that's running Android 12 or Android 13:
Provided you're using Google's excellent Gboard keyboard, take 10 seconds to tell the keyboard to theme itself automatically. (And if you aren't using Gboard, I'd strongly suggest you take it out for a spin!)
Android 12 and 13 have an incredibly cool system for that type of dynamic theming, and Gboard is able to tap into that and match the colors from your current wallpaper — then continue to update itself over time whenever your wallpaper changes.
It's a surprisingly nice touch and one that makes your phone feel pleasingly fresh and personal over time. But the switch for it is often off by default.
Here's how to fix that:
While your keyboard is open, tap the three-dot menu icon in its upper-right corner and then tap the palette-shaped "Theme" icon.
Under the "Default" heading, tap and select "Dynamic Color."
Tap "Apply" in the confirmation that pops up next.
And that's it: Anytime you change your wallpaper, your keyboard will now instantly change its own theme to match.
It'll be a delightful little surprise every time — and once you flip that switch once, you'll never have to lift a single finger to make it happen again.