If you're on the lookout for a fast and dependable solution for burning movies, music, and files onto recordable discs, you're in the right place. Ashampoo Burning Studio 2023 is here to meet your needs, and the best part? You can get it for free!
Not only does Ashampoo Burning Studio 2023 excel at data backups, but it also boasts the ability to extract audio from your beloved music CDs. And if that's not enough, it even helps you craft stylish covers and inlays. In this blog, we'll dive deeper into what Ashampoo Burning Studio 2023 has to offer and how you can grab your free version. Let's get started!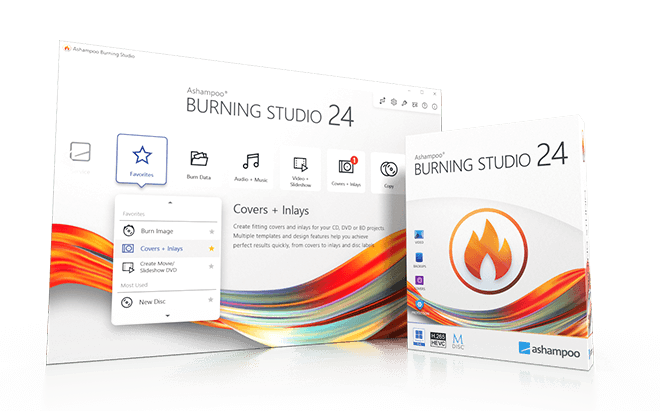 Ashampoo Burning Studio 2023 is your go-to software for all your CD, DVD, and Blu-ray disc burning needs. This powerful tool ensures a quick and reliable burning process for various types of discs, including specialized media like BDXL and M-Disc.
But Ashampoo Burning Studio 2023 doesn't stop at just burning files; it offers a wealth of features that make it an all-in-one disc solution:
Disc Ripping and Audio Customization: With its built-in disc ripping feature, the software automatically detects track names, making it a breeze to turn audio files into custom audio discs. You can even design your own covers and inlays for that personal touch. Plus, it auto-generates playlists during ripping, so your songs play in the order you want.
Compatibility and Finalization: Ashampoo Burning Studio 2023 doesn't discriminate against older devices. It can finalize discs, ensuring they play smoothly on retail players or car radios.
Disc Spanning: Have a massive collection of photos, documents, or songs? No worries. The program's disc spanning feature automatically spreads data across multiple volumes if it can't fit on a single disc. Perfect for backing up extensive collections.
Disc Image Support: If you're a fan of disc images, you'll appreciate Ashampoo's excellent support for ISO and CUE/BIN formats. The integrated image preview during creation and browsing streamlines your experience.
Backup Functionality: Ashampoo Burning Studio 2023 goes beyond disc burning; it offers backup functionality. You can back up files to any disc, flash drive, or hard drive, even including cellphones and compatible tablets with the built-in 1-Click Backup.
Scratch Protection: Worried about disc damage? This software comes equipped with scratch protection, allowing you to retrieve data from discs with significant surface damage.
Windows 11 Compatibility: Ashampoo Burning Studio 2023 is fully compatible with Windows 11, ensuring a seamless experience for users of the latest Windows operating system.
Enhanced Cover Search: The software now features an improved cover search, making it easier than ever to find the perfect cover for your projects.
In summary, Ashampoo Burning Studio 2023 offers a comprehensive suite of tools for burning, ripping, backup, and more, all wrapped in a sleek new user interface. It's the complete solution for all your disc-related tasks, whether you're creating audio CDs, backing up important files, or designing covers for your projects.
Download and Activate Ashampoo Burning Studio 2023 – A Step-by-Step Guide
To acquire and activate Ashampoo Burning Studio 2023 with ease, simply follow these steps:
Step 1: Click on the download link for Ashampoo Burning Studio 2023 to initiate the download.
Step 2: Once the download is complete, run the installation file to start the installation process. During the installation, you will be prompted to enter your email address.
Step 3: If you already have an Ashampoo account associated with the email address you provided:
Enter your email address. Input your Ashampoo account password to log in.
Step 4: For those without an existing Ashampoo account linked to the provided email address:
Enter your email address.
Choose a password that you want to use for your new Ashampoo account.
Complete the installation process.
Step 5: Once the installation is complete, Ashampoo will send an email to the address you provided. Open your email inbox and locate the message from Ashampoo. Inside the email, find and click on the confirmation link to verify your email address.
Step 6: After you've clicked the confirmation link within the email, Ashampoo Burning Studio 2023 will activate automatically. There is no need to enter a license key; it's a seamless process.
Step 7: Ashampoo Burning Studio 2023 is now ready for your use. You can take full advantage of its extensive features and functionalities without any further action.
Step 8: During your use of the software, you may be prompted to upgrade to a newer version of Burning Studio. This is entirely optional. If you want to stick with the Ashampoo Burning Studio 2023 version you've received through the giveaway, simply click "NO THANKS."
Step 9: To verify that the software is registered, navigate to the "HELP" menu and select "LICENSE STATUS."
That's it! You've successfully downloaded, installed, and activated Ashampoo Burning Studio 2023. Feel free to explore and utilize its full range of features for your disc burning, backup, and cover design needs. Enjoy your newly acquired software!