Nvidia announced starting from this week, beta users of GeForce NOM cloud-based hardware game-streaming service will be able to install and run on Windows PCs.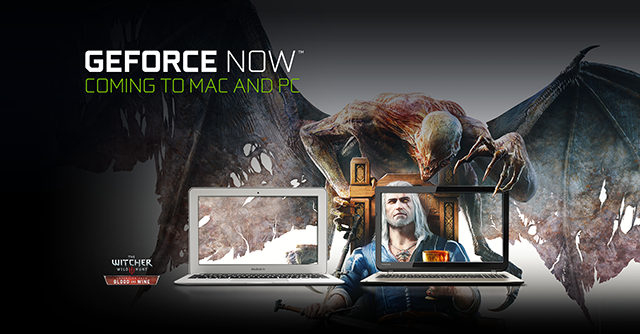 With GeForce NOM, games are run on virtual machine then streamed to your device. Any titles played through the service must be owned by the end user on compatible digital stores, including Valve's Steam, Ubisoft Uplay and Blizzard Battle.net. All patches are automatically installed, and cloud saves are enabled by default.

All patching, game configuring and driver updating is handled automatically by the GeForce Now infrastructure, and games take just 30 seconds to install,
And in addition, save games, achievements and other settings are automatically synchronized with digital game platforms, enabling you to instantly pick up from where you left off.
Nvidia said.
Nvidia GeForce NOM capable to boasts to stream games at 1920x1080p resolution and blistering fast 120 frames per second (FPS). Games supported by the service include PlayerUnknown's Battlegrounds, Fortnite, and Ark: Survival Evolved.
It's really fun to be able to play Paragon and Fortnite using NVIDIA's GeForce NOW service,
The games stream very smoothly, even on my Macbook Air, giving you the feeling you're playing natively. Well done, NVIDIA!
said Mark Rein, vice president of Epic Games.
GeForce NOM is free during the public beta period offers a limit of four hours per gaming session. GeForce NOM is available in the majority of North American and European markets. At CES 2017, Nvidia said that GeForce Now will cost $25 for 20 hours on a virtual PC with GeForce GTX 1060-class graphics, or 10 hours of GTX 1080-level performance.
Ubisoft is excited that gamers playing acclaimed franchises such as Tom Clancy's Rainbow Six Siege on Uplay PC can now enjoy outstanding play experiences on PCs and Macs thanks to NVIDIA's futuristic GeForce NOW service, without needing a high-end PC,
NVIDIA is powering a high-quality experience that now streams a selection of Ubisoft's top franchises.
said Chris Early, vice president of Partnerships and Revenue at Ubisoft.
Key Benefits:
High Performance GPUs: GeForce NOW uses the latest NVIDIA GeForce GTX GPUs, which deliver outstanding performance on demanding new AAA games.
Instant Installs; No Maintenance Required: Supported games on GeForce NOW are instantly installed onto cloud gaming rig in seconds and automatically applies the latest patches to games and NVIDIA Game Ready drivers.
AAA Windows PC Games: Enjoy your favorite PC games like PLAYERUNKNOWN'S BATTLEGROUNDS, Fornite, Injustice 2 and over 150 top titles at max settings. With new games getting added all the time. Over 150 popular titles are included, full list is available here.
Ultra Streaming Mode: Increases the speed that GeForce NOW streams games to Mac or Windows PC from 60FPS to 120FPS or higher, reducing latency.
Requirements for Windows PC:
Must have WIndows 7 or higher.
Requires a 25 Mbps internet download speed. Recommended 50 Mbps or higher. Streaming quality automatically adjusts to the speed of your broadband connection.
10 Megabits per second – Required broadband connection speed
20 Megabits per second – Recommended for 720p 60 FPS quality
50 Megabits per second – Recommended for 1080p 60 FPS quality
< 60ms ping time to one of six NVIDIA datacenters world-wide
Need to use a hardwired ethernet connection or 5 GHz wireless router.
Recommended USB gaming mouse for PC.
Sony DualShock 4 for PlayStation 4 (USB wired and Bluetooth)
Logitech Gamepad F310/F510/F710.
Intel i3 with 3.1GHz or faster CPU
4GB of system memory
GPU that at least supports DirectX 9
NVIDIA GeForce 600 series or newer
AMD Radeon HD 3000 series or newer
Intel HD Graphics 2000 series or newer
Behind the scenes showing off GeForce NOW at CES. What's that? It's GeForce NOW running on a $400 PC. #CES2018 #GeForceNOW #PCGaming pic.twitter.com/0in1ivkBct

— GeForce NOW (@NvidiaGFN) January 8, 2018
How to use GeForce NOW on PC or Mac:
Here's how you can install and use GeForce Now on PC or Mac to play the latest AAA-rated games:
Step 1: Sign up for access to the GeForce Now beta and await the arrival of your code.
Step 2: Download and install Nvidia GeForce Now from the Nvidia website.
Step 3: Open the Nvidia GeForce Now app and sign in with your Nvidia account.
Step 4: Test your network to make sure it's fast enough for game streaming. Do this by clicking your account in the top-right corner and selecting "Test my network".
Step 5: In the app, browse the list of supported games in the "Games" section – you can also search for a game if you're looking for something in particular. Remember, you have to own the game on the associated platform (Steam, Uplay, etc) to gain access.
Step 6: Click on a game to install it on your virtual PC. You'll also be prompted to log in with the digital store account associated with the game to confirm ownership. Once confirmed, you'll be able to access the game quickly through the My Library tab next time.
Source: Nvidia Blog: With GeForce NOW a Billion Cheap PCs Can Now Taste Gaming Greatness, Too