Today PDFMixer.com released their new freeware product PDF Mixer V1.0, which can mix or re-arrange pages of PDF documents, and insert Word, Excel, or PowerPoint files into PDFs easily.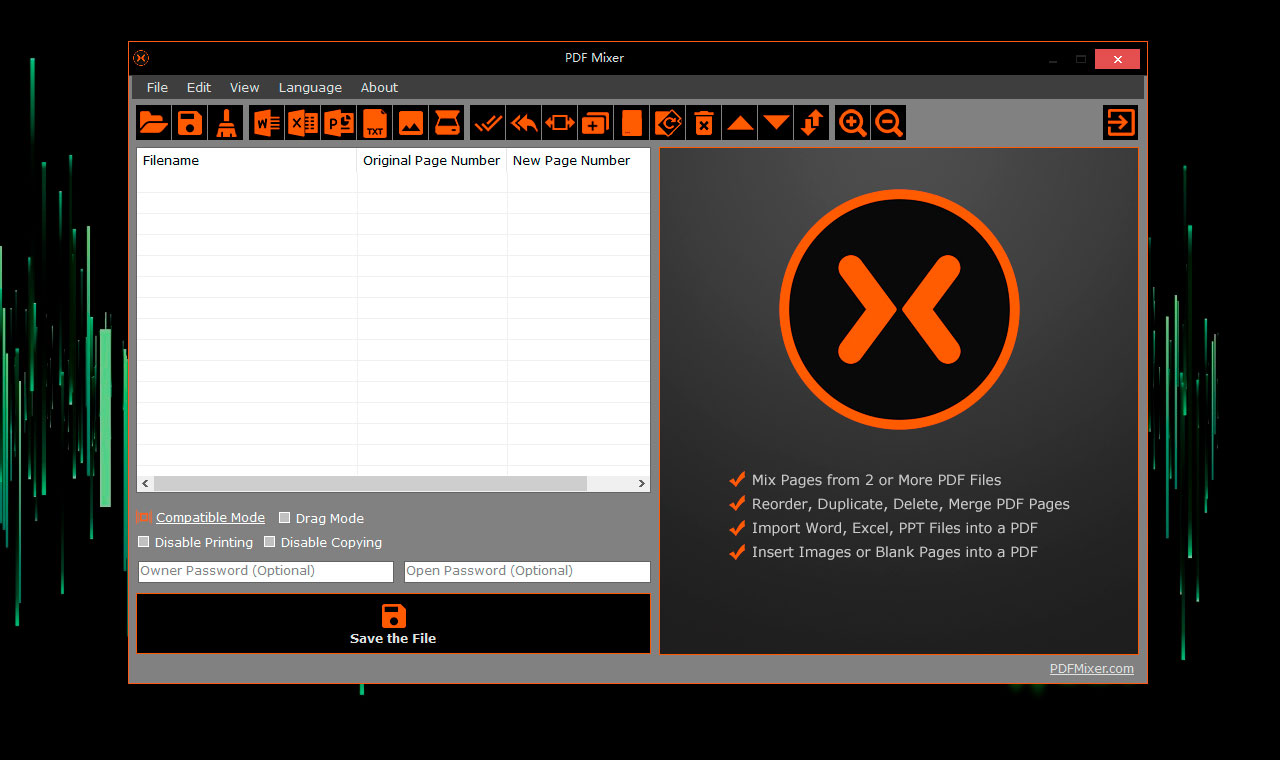 With the rapid development of the Internet, people often use and manage a large number of PDF documents in their daily work. More and more users find that they often need to manipulate and adjust PDF pages or insert some pages from one PDF file into another. Most PDF editor programs are usually complex and overwhelm beginner users at first glance, especially if they just want to rearrange certain pages in the document or mix the contents of some PDF files. PDF Mixer simplifies these processes and provides a variety of methods for inserting and adjusting PDF pages.
Unlike regular PDF tools, PDF Mixer is a powerful PDF page management and organization freeware tool which can mix and rearrange the PDF pages of 2 or more PDF documents, and add PDF pages to existing PDF files then save them to a new file.
PDF mixer also allows users to copy, rotate, delete, switch and merge PDF pages in multiple PDF files easily. In addition, it can insert blank pages and images, scan new pages from the scanner to PDF, and insert Word, Excel, or PowerPoint documents into existing PDFs.
PDF Mixer aims to quickly and effortlessly mix, reorder or add pages in PDF files for both novices and experts.
Features
Mix PDF Pages of Multiple PDF Files
Reorder PDF Pages
Copy & Duplicate PDF Pages
Rotate PDF Page Orientation
Delete PDF Pages
Switch 2 PDF Pages
Merge Pages from Multiple PDFs into One File
Create Blank PDF Pages
Add WORD DOC/DOCX to an Existing PDF
Add Excel Workbooks to an Existing PDF
Add PowerPoint Slides to an Existing PDF
Import Images to PDF Pages
Import Pages from a Scanner
Create Password Protected PDFs
Create Restricted PDFs
Multi-Languages
upported Mix & Import Formats:

PDF
MS Word DOCX, DOC, RTF, TXT
Excel XLSX, XLS, XLSB, XML, ODS
PowerPoint PPTX, PPT, ODP, PPSX, PPS
JPG, JPEG, GIF, PNG, TIF, TIFF, BMP, PSD (Photoshop)
Availability
Homepage: https://pdfmixer.com
Download: https://pdfmixer.com/download.html
File Size: 34 MB
OS: Windows 11 / Windows 10 / Windows 8 / Windows 7 / Vista / XP & Server (64/32 bit)